200 Years of Experience...
Celebrating our Bicentennial
Anniversary 1812-2012
Fast Delivery...
Need blades urgently? We will do everything possible to meet your needs, including non-standard widths.
Small Quantities...
No order is too small, we are happy to quote for small blade quantities and one-off orders.
Quality...
We only use the finest quality doctor blade material and our rigid inspection procedure ensures a premium finished product.
Customer Service...
Efficient and friendly staff to listen to your requirements.
Technical Support...
Having doctoring problems or coating problems? We are pleased to provide assistance.
Working with You...
We value your business and are committed to meeting customer needs.
DOCTOR BLADES
"Pinders" are manufacturers and suppliers of high quality flexographic doctor blades and gravure doctor blades, used in industries such as packaging, flexible packaging, corrugated boxes, flexible plastics, wallpaper, envelopes, tag and labels.
We maintain a close relationship with our customers to meet delivery requirements and adapt to special needs such as non-standard width, pre-cut doctor blade and backing blade.
Supply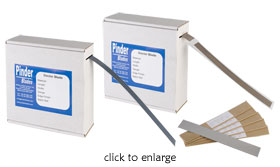 Coil form blade in dispenser box
Pre cut doctor blades - coiled on low tack tape in dispenser box
Pre cut doctor blades - packed flat in VCI anti-corrosion paper
Plain packaging optional
Range of Doctor Blade
Width – Any. All standard blade widths plus any non-standard doctor blade (e.g. 25.4mm, 31.75mm).
Square / Rounded
Bevel
Stepped (lamella)
SQCP600 Polished Carbon Steel Doctor Blade
For general operating conditions
Gauges 0.15mm, 0.2mm, 0.25mm
Thicker gauge blade available for heavy duty doctoring

SQCV600 Polished Carbon Steel Doctor Blade
Gauges 0.15mm, 0.2mm, 0.25mm
✓
✓
✓
SQCB600 Blue Carbon Steel Doctor Blade
For general operating conditions, preferred by some users, reporting improved blade wear
Gauges 0.15mm, 0.2mm, 0.25mm
✓
✓
SQCG620 Longlife Doctor Blade (Gold Doctor Blade)
Specially developed steel to provide a longer blade life.
For difficult colours and extended life to 5x plus, giving long blade runs hence reduced down time
Gauges 0.15mm and 0.2mm
✓
✓
SQCSS400 Stainless Steel Doctor Blade
Combines excellent blade wear characteristics with corrosion resistance
Gauges 0.15mm, 0.2mm, 0.3mm
Thicker gauge blade available for heavy duty doctoring
✓
✓
✓
PY350 and PY500 Polyester Doctor Blade
A durable plastic doctor blade material available in single thickness only
Gauges 0.35mm and 0.5mm
✓
✓
Backing Blade - Back Up Blade - Support Blade
We manufacture and supply custom-made backing blades, back up blades or support blades to suit your requirements. Backing blades can provide extra rigidity to support your doctor blade in certain blade operating environments.
Available in Carbon Steel and Stainless Steel
Gauges from 0.15mm to 2mm
Further Information on material and edge selection for Flexo & Gravure Printing