200 Years of Experience...
Celebrating our Bicentennial
Anniversary 1812-2012
Fast Delivery...
Need blades urgently? We will do everything possible to meet your needs, including non-standard widths.
Small Quantities...
No order is too small, we are happy to quote for small blade quantities and one-off orders.
Quality...
We only use the finest quality doctor blade material and our rigid inspection procedure ensures a premium finished product.
Customer Service...
Efficient and friendly staff to listen to your requirements.
Technical Support...
Having doctoring problems or coating problems? We are pleased to provide assistance.
Working with You...
We value your business and are committed to meeting customer needs.
Have a problem?Need advice?
We are here to assist and will provide technical support, generally free of charge.
This can include: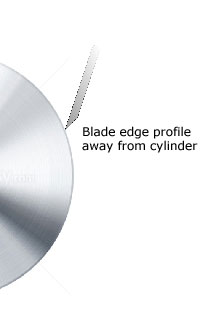 · Advice on material and edge finish selection
· Advice on blade holder design
· Advice on blade set up and contact angles
· Samples for trial purposes
· On-site visits
We can also advise on technical problems such as:
· UV Ink Spitting
· Anilox Scoring
· Erratic Blade Wear
· Blade Fracture and Blade Snap
· Blade Friction and Drag
· Print Defects and Streaking
· Difficult and White ink problems
· Housekeeping Issues
Here we will carry out an initial assessment to identify possible causes, starting with an examination of used blade, which can provide us with an insight into source of the problem.